Amsterdam Young Academy Award for Nicos Starreveld
On Tuesday, 7 November, the rectores of VU and UvA handed out the second Amsterdam Young Academy (AYA) Recognition & Reward Awards during the inauguration of the new AYA cohort in the Hortus Botanicus. The awards are intended to reward VU and UvA academics who perform exceptionally in the fields of Teaching, Social impact or Academic Community Support. Nicos Starreveld, lecturer at the UvA and outreach coordinator of Networks, received the Award for Teaching.
The Jury was very much impressed by the dedication and commitment that Nicos has toward improving the quality of the education within the mathematics institute at the UvA. The nomination praised his tireless efforts in a variety of different aspects, ranging from student support, curriculum development and the design of new courses that have greatly contributed to the innovative character of the bachelor programme. Nicos has always creative ideas and he has often initiated collaborations with partners outside of the mathematics institute, such as the Nederlandse Forensisch Instituut for joint student supervision or with the Universitaire Lerarenopleiding Amsterdam for a teacher program.
Source: University of Amsterdam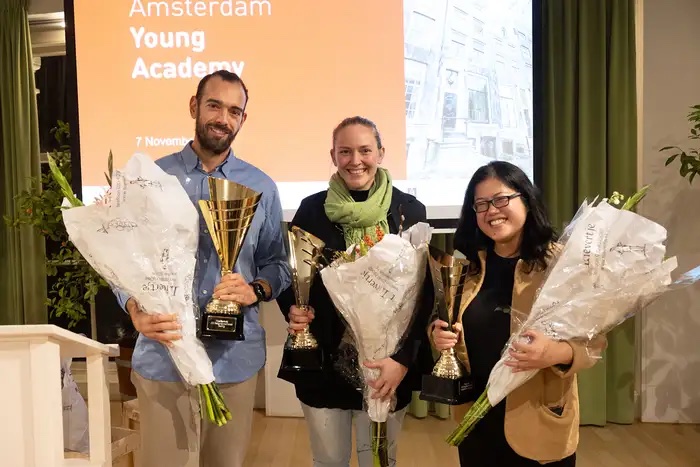 Nicos Starreveld (left). Photo: Bastiaan de Heus