Royal distinction for Professor Ton Koonen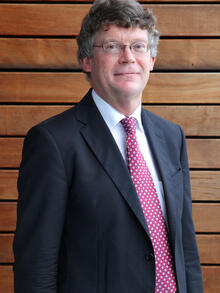 On Firday 24th of September Professor Ton Koonen received a royal distinction during the symposium Optican Networks preceding his valedictory lecture: he has been made Knight in the Order of the Netherlands Lion.
Ton Koonen was born in Oss, The Netherlands, on October 20, 1954. He received an M.Sc. degree in Electrical Engineering from Eindhoven University of Technology in 1979. In 1979 he joined Philips' Telecommunicatie Industrie, part of which has since 1984 become Lucent Technologies Network Systems Nederland. He worked on high-speed transmission systems and optical fibre systems for hybrid access networks, also from 1987 to 2000 as a technical manager of the Forward Looking Work department of Bell Laboratories within Lucent.
You can read more about his distinction on the Network pages!